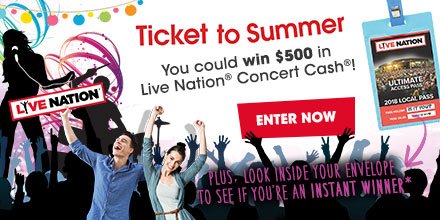 Valpak & Live Nation
I haven't been to a concert since I was in my teenage years, but maybe it's time to enjoy one!  Through 10/7, customers can purchase three concert tickets from Live Nation and get one free for participating shows at amphitheaters across the country.
Head HERE to see eligible shows and to purchase tickets.
You'll also have the chance to enter to win either $500 in concert cash (1 winner) or $200 in concert cash (3 winners) through July 20th.
One lucky winner will find the Live Nation Ultimate Access pass inside their Valpak envelope. The pass entitles the recipient (+1) access to all Live Nation concerts of their choice in 2018!